THE POSSESSED (Spooked Television Releasing) October 2008 DVD. Produced and Directed by The Booth Brothers. This shocking, documentary from "epic reality" filmmakers the Booth Brothers (Spooked, Children of the Grave (as seen on Sci Fi Channel) will be released October 2008 on DVD. " The Possessed " is a paranormal investigation into the twisted world of possession. Cases include the chilling true story, ' The Watseka Wonder ' (1877), America's first documented spiritual possession of a 13-year-old girl from the small town of Watseka who became possessed by spirits of the insane dead.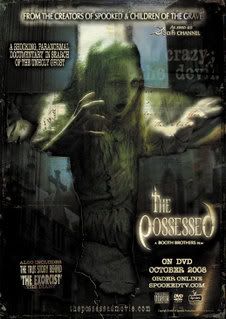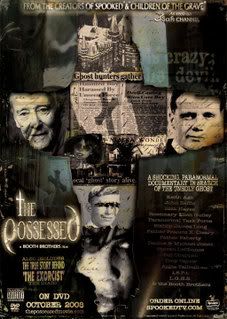 While exploring an old Insane Asylum in St. Louis, the filmmakers then investigate the real 1949 Exorcist's diary, the true story behind the motion picture "The Exorcist". In depth, " The Possessed " is a terrifying look at modern day possession and it's evidence, " Demon Entities Do Exist " !
Scheduled to air on the Sci Fi Channel next summer, " The Possessed " will be released, UNCUT and UNRATED on DVD in October, 2008. Utilizing the latest in paranormal research technology and an army of paranormal professionals, the Booth Brothers search for the scariest entity known to man, "The Unholy Ghost".
Filmed on location in the actual haunted houses, churches and asylums where the events took place. Exclusive Interviews with Father Francis X. Cleary and Father Faherty, the last remaining priests of the most infamous 1949, St. Louis exorcism.
Paranormal cast; Keith Age, John Zaffis, Rick Hayes, Rosemary Ellen Guiley, Paranormal Task Force, Bishop James Long, Denice & Michael Jones, Steven LaChance, Bill Chappell, Troy Taylor, Anita Tallbull, I.S.P.I., L.G.H.S. & the Booth Brothers.
For more info: www.spookedtv.com and www.thepossessedmovie.com
No comments
Many people contact us asking if we employ the use of psychics on our investigations. While every case is different, there are indeed those that we consult with a psychic for assistance. Over the past couple of years, I have had the incredible privilege of working with C.J. Sellers – a reputable and amazingly gifted psychic medium. Not only has C.J. brought closure to families struggling with paranormal issues, she has also provided personal support and encouragement to several of our team members.
It is exactly this reason that C.J. Sellers serves as an Advisory Director for The Paranormal Source. Personally and professionally, C.J. has exceeded all of my expectations and still continues to do so. Fortunately C.J. is available to do personal readings for anyone in search of answers or uplifting encouragement. She is very reasonably priced and is well worth the time you spend with her.
Click Here to Schedule a Reading with C.J.
~April Slaughter
1 comment

April Slaughter has been invited by the Denton Area Paranormal Society to present information on Utah's SKINWALKER RANCH at the Emily Fowler Library in Denton, TX on Saturday August 16th at 2 p.m. This presentation is open to the public and April is excited to discuss this topic with everyone! For those of you who will be unable to personally attend, video footage will be provided shortly thereafter here on the website.
Map & Directions to the Emily Fowler Library
The Denton Area Paranormal Society's Official Website
2 comments